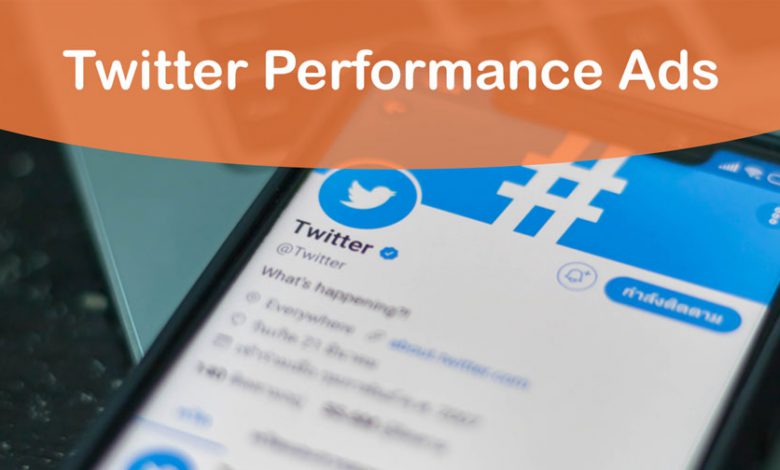 What is performance advertising on Twitter ?
Performance advertising on Twitter refers to digital ads that ask someone to complete a specific call to action like Buy Now or Install.
Music companies use performance advertising to encourage people to install their apps and subscribe to their streaming services.
Mobile phone companies use performance advertising to encourage people to visit their website to select and sign up for new phone plans.
Fast food companies use performance advertising to encourage people to download their mobile apps to easily place orders and sign up for perks.
Digital users can complete an action on two primary platforms:
Using a browser in a web-based environment
Using an app on a mobile device
Common KPIs for performance advertisers
Performance advertisers care about the performance and being able to measure the results so much, because everything else depends on that.
And,
They make decisions based on the result of KPIs or key performance indicators, so they are vital to this process.
Most important Twitter performance ads KPIs are:
CPM (cost per 1000 impressions)
CPAC (cost per app click)
CPLC (cost per link click)
CTR (click through rate)
CVR (Conversion rate)
CPI (cost per install)
CPP (cost per purchase)
ROAS (return on ads spend)
LTV (lifetime value)
Explore the performance landscape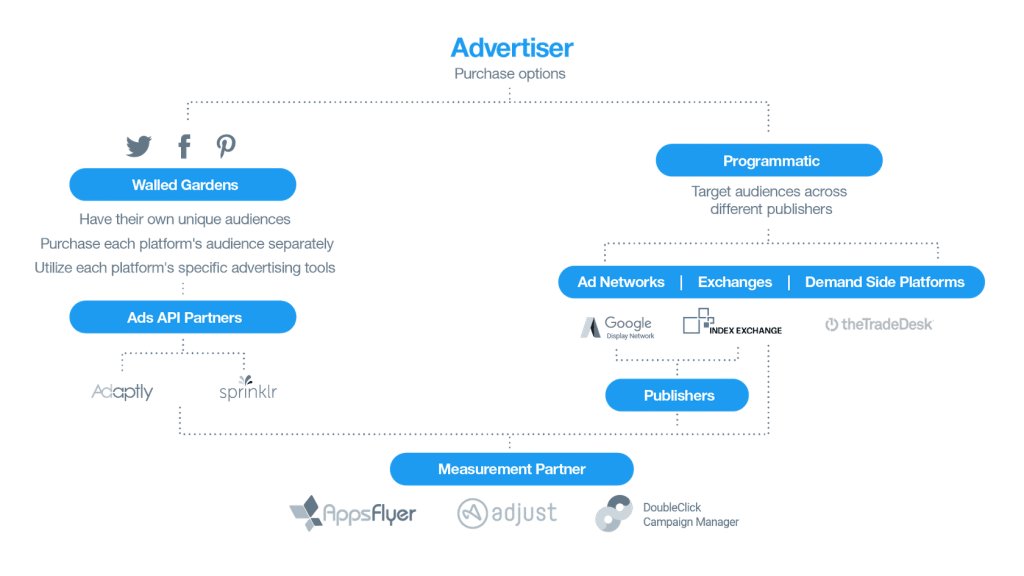 I think it's necessary for you to be more familiar with the landscape of performance advertising.
Performance advertisers generally classify themselves as:
Publishers
Ad Networks
Exchanges
DSPs (demand-side platforms), retargeting solutions
API Partners
Ad Servers
DMPs (data management platforms)
Attribution / measurement technologies
As I mentioned earlier, performance advertisers focus on driving performance at scale and measuring their success. In order to achieve their goals, they collaborate with ad networks, advertising platforms and partners, measurement and attribution partners, and data partners.
There are two primary types of advertising platforms:
Programmatic: One-to-Many Relationships
Programmatic actors fall into three categories:
DSPs are demand-side platforms that enable advertisers to buy inventory from multiple sources (The Trade Desk, MediaMath, MoPub Acquire).
Ad networks tend to aggregate publishers. They offer premium inventory to be sold in various ways, either directly or programmatically (Google Display Network, Adconion, Brightroll).
Ad exchanges have been rising as well, providing access to an extended depth of inventory—including remnant inventory—with the end goal of maximizing publisher revenues.
Walled Gardens: One-to-One Relationships
Twitter is an example of what's commonly referred to as a "walled garden," meaning they work directly with advertisers. They serve ads only through Twitter ad formats (Promoted Ads, Amplify, etc.) on our platform.
Twitter performance solutions
Twitter offers three performance ad objectives or three different types of campaigns that will help you achieve your KPIs across mobile and desktop.
Twitter performance ads objectives are:
App Installs campaigns
App Re-engagement campaigns
Website Clicks campaigns
Twitter ads formats

Twitter offers different ad formats, these formats pair images and video with app store integrations and website CTAs, driving users from their Twitter timelines directly to your app or website.
Let's check out these formats:
Carousel Ads
Image & video Ads
Akse hame noe haie tabligh ke kenar ham has inja gozaste beshe
Where can I see these ads on Twitter?
App Install Ads can show up in several places on Twitter. These placements include:
Tweets in your campaigns may be visible within someone's timeline if an advertiser has promoted a Tweet relevant to that person.
The Twitter Audience Platform (TAP) extends your reach by placing ads in the thousands of apps your audience uses every day, achieving a grander scale for your campaigns.
App campaigns from our advertising partners are called out at the top of certain search results pages on Twitter.com, as well as through select ecosystem partners.
When someone you targeted visits a Twitter profile or Tweet detail pages, they may be eligible to be served your impression.
What is the Twitter audience platform (tap)?
Using Twitter Audience Platform or TAP, advertisers can expand their reach and scale by serving App Install, App Re-engagement, and Website Clicks ads to additional people who aren't on Twitter.
TAP provides additional reach to 800M+ devices across Twitter and thousands of other apps. TAP also gives you access to Twitter's users, as well as similar users on other platforms.
TAP Creative is compatible with both Image and Video Ads.
Your campaign will be automatically extended to TAP by default; you can select the specific formats you want to run under the campaign form's creative section.
TAP lets you run ads across Managed Publisher MoPub inventory for premium apps.
Note that Twitter-owned and operated inventory typically drives a higher cost per click/install—but a higher average value per click/install.
You can view performance differences between Twitter-owned and operated inventory and TAP within our dashboard and your third-party measurement dashboard.
We suggest not using TAP with website clicks campaigns unless the KPI is focused on cost per click instead of cost-per-site-visit or lower-funnel metrics.
Performance measurement basics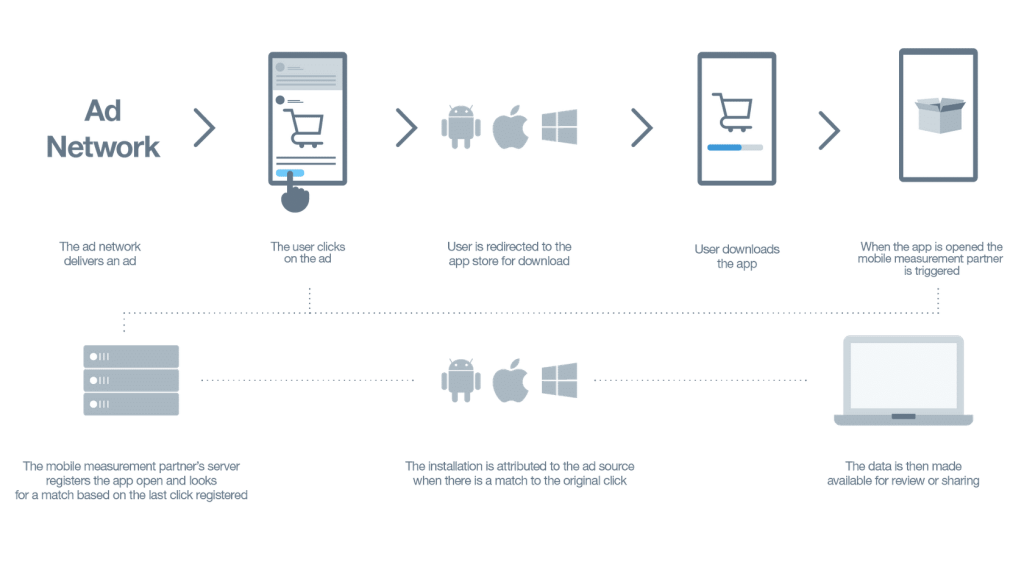 Measurement is the most important and critical part of performance-focused advertising.
In digital marketing, it's easy to track results of different advertising channels.
However, accurately attributing results to an advertising campaign is both an art and a science.
To do so, advertisers must make assumptions and use rules called "attribution models" to decide which touch points are responsible for the final action of users.
Beside that, the way you measure your result also matters and the same advertising campaign measured via different methods can reflect different levels of success to the advertiser.
There are different ways to perform attribution. As the industry changes and technology improves, attribution methods will be adjusted accordingly. Let's explore a few possible attribution models.



What is view through vs click through
An advertiser gives view-through attribution credit when a user sees the ad and takes action afterward.
They give click-through attribution credit when a user clicks on the ad and takes action later.
Click-through attribution is known as post-engagement on Twitter.
Gzashtn aks har bakhsh
Attribution window
An attribution window is defined as an allowable period between the moment someone viewed or clicked on your ad and the moment they took action, in which an advertiser believes there was a causal relationship. The advertiser defines the length of the attribution window, which is usually consistent across all engaged platforms. This ensures all platforms are held to the same standard.
What is needed for attribution?
For attribution to happen, data and information must be shared between the client and Twitter. This means a connection must be made between both sides, which can happen for the web by applying a website tag or URL parameter, and for apps by integrating with a mobile measurement partner (MMP) (via SDK).
Twitter must also be connected to those various solutions to take credit for conversions and to display attributed conversions in its user interface (UI).
Attribution infographic
Twitter measurement solutions
Twitter uses both first- and third-party measurement solutions offering a wide variety of high-quality options. These options allow for increased accuracy and quality formatting, giving you the advantage when it comes to measuring campaign results.
Gozashtn akse avalin akse in bakhsh
Twitter pixel
Twitter DCM Server-to-Server Integration
Partner-provided measurement soulutions infographic
Mobile Measurement Providers (MMP)

Mobile measurement providers (MMPs) are partner-provided tracking solutions. These platforms collect, organize, and standardize app data to deliver a uniform assessment of campaign performance metrics. Twitter does not currently offer a Twitter-provided SDK (software developer kit) solution for App metrics.
To use this solution, you would need to implement the mobile measurement provider's SDK and apply it to your app. This allows the mobile measurement provider to track app actions among users as they occur.
The mobile measurement provider can establish connections with advertising platforms to pass along the event information for measurement purposes.
You'll need to determine what app actions you would like to share with advertising platforms for analysis. The setup is done on the advertiser side via their mobile measurement provider's dashboard.
These app events are viewable in Ads Manager by going to Tools > Conversion Tracking > Mobile App Events after Twitter has started receiving event data.
How do mobile measurement providers work?
You will need a mobile measurement partner to measure the Mobile App Promotion conversions, and you'll need to connect your MMP with Twitter to measure your Twitter campaign performance.
The infographic
Twitter and iOS 14
Apple announced their AppTrackingTransparency framework, as part of iOS 14, in 2020. Now that Apple has started enforcing AppTrackingTransparency (ATT), apps will be required to prompt people to access their device's identifier for advertisers (IDFA). IDFAs are often used for mobile app advertising—for example, for measurement and attribution.
The AppTrackingTransparency framework will impact the broader advertising industry as it will likely lead to a significant decrease in the number of identifiable users. This will make it difficult to attribute conversions or actions driven by an ad platform accurately. It may also impact ad delivery models, targeting capabilities, and measurement solutions.
What this means for your App Install and Re-engagement campaigns
These changes will affect App Install and App Re-engagement campaigns, impacting measurement, prediction, targeting, and campaign performance. The IDFA is a key input in mobile app campaigns, and with a reduction in the number of IDFAs driven by this change, campaigns will be altered. Specifically, operations and measurements of iOS app campaigns on Twitter will shift:
SKAdNetwork: To reach audiences who have opted out of tracking, you will need to work with an approved Mobile Measurement Partner (MMP) to leverage SKAdNetwork on Twitter. At this time, not all MMPs are integrated with SKAdNetwork on Twitter; we recommend contacting your MMP to learn more.
Measurement: Click- and view-through install reporting will be aggregated at the ad group level for SKAdNetwork installs.
Campaign Setup: You will need to ensure that you are only running up to 70 ad groups at a time for a single advertised iOS app.
What this means for your Website campaigns
We expect ATT to affect Website campaigns—particularly Website Click campaigns leveraging the Twitter Audience Platform using the third-party measurement integration for Google Campaign Manager 360.
For Web campaigns using Twitter Audience Platform with third-party impression-based trackers, note that third-party impression tag-based measurement currently relies on IDFA when measuring Twitter Audience Platform inventory. Therefore, in third-party dashboards, event-based results (Site Visits or other conversion events) through the Twitter Audience Platform will exclude people who have not opted into the ATT tracking consent prompt (i.e. devices where we don't have access to IDFA). Redirect-based measurement will continue to work. Specifically, operations and measurements of Web campaigns on Twitter will shift:
Using Twitter Audience Platform with third-party measurement: If you would like to continue to leverage the Twitter Audience Platform with your Web campaigns and see event-based results in your third-party measurement platforms, we suggest using a redirect-based tracker. If you leverage a tag-based tracker or a tracker that does not redirect, you will not be able to see results for people who have not opted in via the ATT prompt. If you are unsure whether your tracker redirects, we recommend contacting your third-party measurement provider.
Verify your Web tag implementation: If you haven't already done so, we recommend shifting from image tags to javascript tags. You should also confirm they're properly set up to help with measurement and targeting.
Source: Twitterflightschool.com