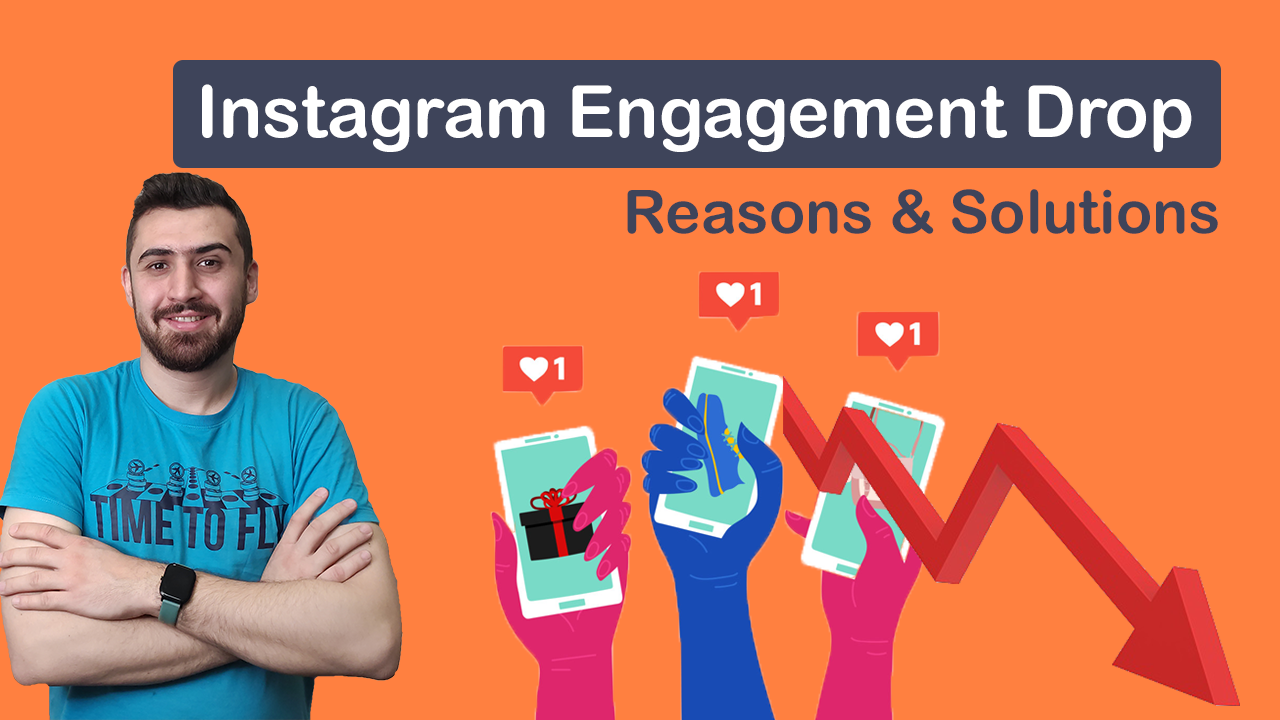 Did your instagram page engagement drop recently?!
Do you have any idea how the Instagram algorithm uses the engagement rate and how important it is?!
I'm gonna tell you the main reasons for engagement drop in instagram and ways to increase it.
So let's see those.
---
So in this article of instagram analytics series, I'm going to focus on analyzing engagement in instagram, explaining the reasons of eng drop, the role of eng rate in instagram algorithms, how to calculate eng rate and much more so stay with me.
First of all,
What do we mean by engagement ?!
There are a list of things that when a user takes action does those things, it is considered as an engagement to your content.
interactions considered as an engagement in instagram posts are:
Like
Comment
Save
Share
Profile visit
Follow
Actions considered as an engagement in instagram stories are:
Reply
Share
Like
Sticker tap
Profile visit
Follow
Alright now that we know what is considered to be an engagement on instagram,let's see what happens when an Instagram page engagement drops?!
There are a couple of reasons that will cause this problem, but first make sure that you calculated the eng rate correctly.
How to calculate engagement rate
Single post engagement rate is the number of content interactions, divided by total followers times 100.
To determine the average engagement rate of more that 1 post, add up the all the engagement rates from the posts you want to average, and divide by number of posts.
Account engagement rate is calculated in the same way in a certain time frame (for example 30 days) or a certain number of posts ( for example last 20 posts), so you have to calculate the engagement rate for each post then calculate the average engagement rate of the number of posts you want to include.
There are different ways you can calculate the engagement rate, if you wish to see more ways follow this link and check out the Hootsuite blog post about it.
Instagram engagement drop main reasons are:
Gaining ghost followers (inactive followers or not interested in your content much)
Gaining a lot of followers very fast
Adding Fake followers
Changing content or content strategy
Changing timing of posts
Sharing sensitive or copyrighted content multiple times
Next, let's check out the importance of the engagement rate and how does the Instagram algorithm use that.
Role of engagement rate in Instagram algorithm
Instagram has many algorithms to do the different things but the main goal of most of those algorithms is to tailor the content based on the needs and interests of users and show the users exactly what they want to see.
In this equation the role of engagement rate is very big, because it shows to instagram that a post is liked by users and they like to interact with it, so it has more potential to be liked by others too.
That's where the Instagram algorithm decides to show the post with a high engagement rate (mostly in the first 24 to 48 hour) in explore and in the home feed of users that don't even follow the page that shared the post.
So when your page and content engagement rate is higher, your chance of being seen more and gaining more followers is also higher.
What is a good Engagement Rate ?!
Based on most of the social media marketing sources, there are ranges of Engagement Rate defined as a good engagement rate, but depending on the number of followers you have, the industry you are in and the type of business you run ( B2B , B2C etc) it may vary.
Less than 1% = low engagement rate
Between 1% and 3.5% = average engagement rate
Between 3.5% and 6% = high engagement rate
Above 6% = very high engagement rate
Average engagement rate on instagram based on the number of followers:
More than 1M = 1.9%
100K – 1M = 2%
20K – 100K = 2.15%
5K – 20K = 2.5%
1K – 5K = 5.7%